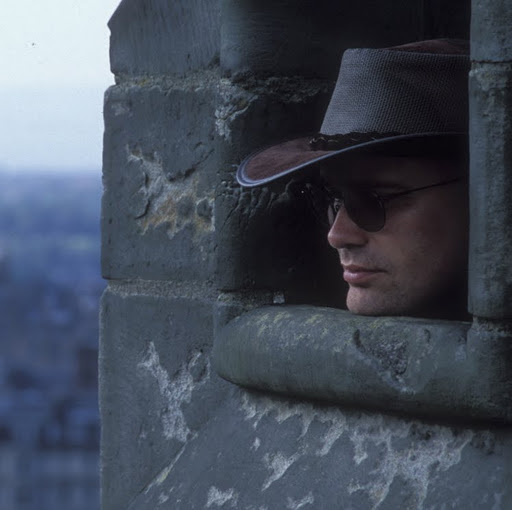 Kelly McCullough writes, and dotes on his wife. The rest is pretty much details.
Writing Details: Among the things he writes are novels, short stories, educational science fiction, essays, poetry, and online bits of microfiction. The novels include the five books in the WebMage series, the six in the Fallen Blade series—all published by Penguin/ACE, and the middle grade novels School for Sidekicks, Magic, Madness, and Mischief, and Spirits, Spells, and Snark, all from Macmillan's Feiwel and Friends as well as the indie-published Numismancer and Winter of Discontent. He is currently working on the latest Fallen Blade book on his Patreon with the intent of completing the full nine book arc with Lost Blades, Whispering Blade, and Blade title TBA.  His short stories have appeared in Writers of the Future, Weird Tales, and a variety of anthologies. Most can also be found right here. The poetry has appeared in TOTU and Weird Tales, and likewise here on the website. The microfiction serial Dragon Diaries can be found on his Facebook feed and on Twitter, and in collected form here on the website. On the educational side, he has worked on The Chronicles of the Wandering Star—an illustrated serial novel which was part of a middle school science curriculum—and the science comic Hanny & the Mystery of the Voorwerp which he co-authored and co-edited. Funding for the Chronicles project was provided by the National Science Foundation. NASA, and the Hubble Space Telescope Foundation funded the Hanny comic.
Life details: Kelly lives in Wisconsin with his physics professor wife and a small herd of cats, all of whom he adores. In addition to writing, he enjoys reading, console and board gaming, biking, running, snowshoeing, and various other active pursuits.
For further information on Kelly's work you can refer to his bibliography. In addition to the published and forthcoming works Kelly has several other projects with his agent, Bob Mecoy of Creative Book Services. Again, details can be found for many of those on the bibliography page. Kelly has occasionally taught courses on fantasy writing at the Loft Literary Center in Minneapolis and he is available to speak on topics in science fiction and fantasy.
If you're interested in meeting Kelly, look for him at the current editions of  CONvergence, or the American Association of Physics Teachers summer meeting, as he usually attends both.
Kelly is a member or alum of a number of Minnesota writer's groups, whose members' sales to date include more than forty novels and hundreds of short stories and poems. He is also an active life member of the Science Fiction Writers of America and a member of sfnovelists.com.
You can follow Kelly's activities here on the website, on Facebook, Twitter, or Mastodon, or read his current Blade novel in progress at his Patreon. He can also be contacted directly, via the email form here.